StaticWorx Hospital, healthcare and lab Floors
StaticWorx/Dr. Schutz Remake
Clean, Shiny, Easy to Install – with virtually no downtime –
and Eliminates Costly Maintenance
In a hospital, lab or healthcare facility or nursing home, there is nothing more important than preventing the accumulation of germs and bacteria that contaminate the space and cause infection. 
Hermetically seals your floor, eliminating cracks & crevices where bacteria typically hide
In even the cleanest environments, germs and bacteria land on the floor where they collect and multiply, infecting a hand when someone reaches down to retrieve a dropped object, or affixing to the soles of shoes as people walk. Washing and disinfecting help, but bacteria can hide in the seams in the floor, and the stripping and waxing processes provide opportunities for bacteria to accumulate. Waxing during routine maintenance temporarily prevents usage of critical spaces.
Easy to Clean and Maintain, with no need to wax, strip, re-wax
Our StaticWorx/Dr. Schutz Floor Remake eliminates wax, strip, re-wax steps – saving on costly, time-consuming maintenance – so when it's time to clean critical spaces there's no need to shut the area down.
Quick and Easy to Install, with virtually no downtime
Our StaticWorx/Dr. Schutz UV-cured urethane coating is simple to install, with virtually no downtime – for a surface that's impenetrable to germs, bacteria and other contaminants.
We can even coat existing floors, including LVT, VCT, PU, and even some wood floors, to create a permanent hermetically-sealed surface.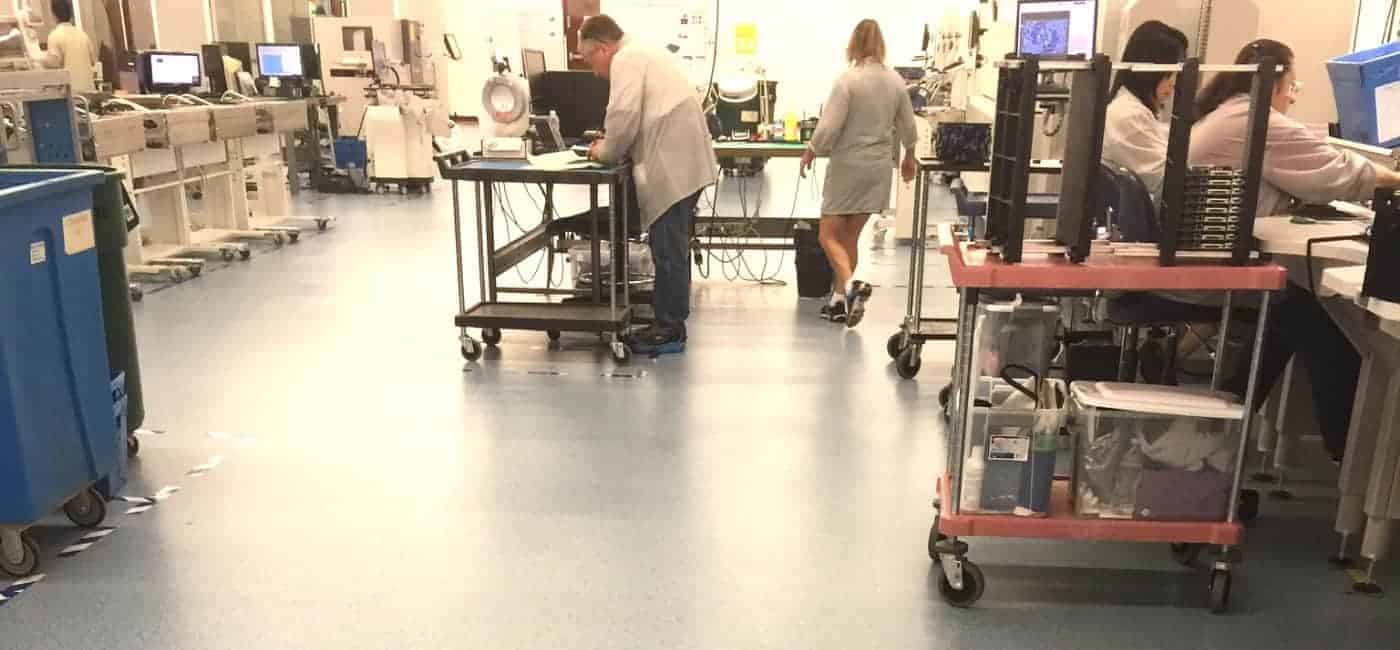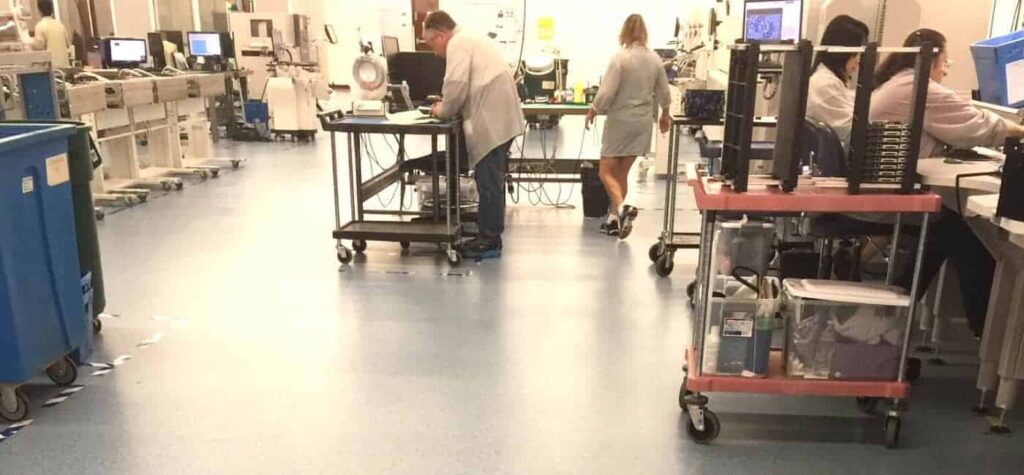 Also available: Electrically Conductive (EC) Rubber
Eclipse electrically conductive (EC) Rubber is the only ESD material that protects against static generation with or without the use of ESD-protective footwear. Randomly placed carbon chips are introduced in the manufacturing process; these black carbon chips attract static charges.

These conductive pathways attract static charges, drain the charge through the tile, to the conductive adhesive, to copper stripping where the charge dissipates to ground.

The ESD properties in StaticWorx EC Rubber are permanent. Unlike the static-control properties in some dissipative tiles, the ESD protection in our EC rubber will not change or diminish over time. The floor will always meet the original specifications and suit the original purpose.
StaticWorx Eclipse Glue Free (GF) rubber Flooring is self-adhering, cutting installation time in half. With Eclipse GF there is no need to spread adhesives or replace worn trowels. And no adhesive open time allows for immediate flooring installation. Like our regular EC rubber, Eclipse Glue Free is the only ESD flooring that inhibits static electricity on ordinary footwear.
The static control properties of Eclipse (EC and GF) rubber are warranted for life because carbon technology provides fail-safe static control. The electrical properties in our EC rubber are unaffected by aging, traffic or humidity. StaticWorx rubber flooring meets all performance parameters of every static control requirement and static control standard including:


ANSI/ESD S20.20
Class 0
NFPA 99
DOD 4145.26-M
Mil STD 1686
IBM Data Center Recommendations
GF version reduces installation time
Significant material and labor cost savings
No moisture or pH limits and no testing required
No multiple-component suppliers
No topical mitigation required
Seamless
No PVC or halogens
Meets ISO Class 3 Cleanroom criteria
StaticWorx, Inc. is a U.S. government-approved small business.
The form below will help us better understand your needs and get you as quickly as possible to the right person. We look forward to helping you solve your static problem!
You can expect a response within 24 hours. For faster service, please give us a call: 617-923-2000
StaticWorx Flooring Products
StaticWorx high-performance static-control floors protect electronic components, explosives, and high-speed computers from damage caused by static electricity. ESD flooring is part of a system. Choices should always be based on objective, researched evidence. When you partner with us, we look at all possible items that may need to integrate with the floor, and, focusing on your goals and objectives, help you find the right floor for your application.