Long-term abrasion can embed soil and contaminants in solid vinyl tile (SVT) floors. Without routine cleaning and maintenance, SVT floors can become deeply soiled and unsightly. StaticWorx Tile RESTORE can remove soil and stains (figure 3) caused by embedded contaminants, restoring the floor's original shine, without the use of ESD wax.
The photos in figure 3 show a custodian removing contamination from a solid vinyl tile floor with heavy stains, scratches and variations in appearance.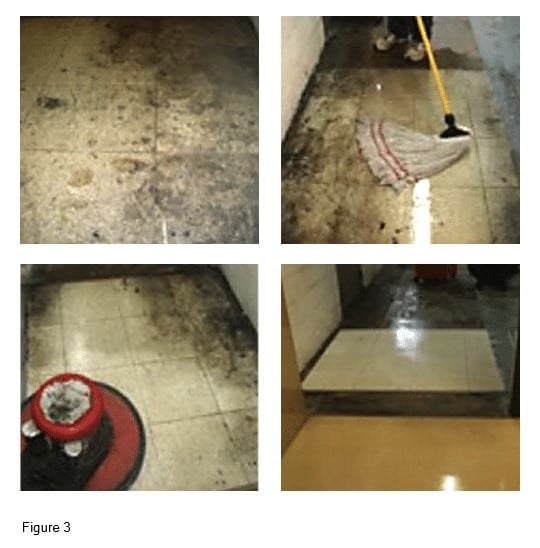 The photos show:
1) High-traffic corridor in an electronics manufacturing facility that had been improperly maintained for several years.
2) Applying EcoScrub degreasing agent. After applying EcoScrub, buff with maroon pad, dry mop, rinse, allow to dry.
3) Buffing with StaticWorx Formula 20.20 surfacing emulsion using a natural pad. Once dry, apply spray buff compound with white pad for an added sheen (optional).
4) Within a matter of hours, the appearance of the floor is much improved.
You can use a more abrasive cleaning pad to remove resin/material from the surface of the tile then buff to a glossy shine on the newly exposed tile surface.
The tile's original surface and gloss can be renewed at any time by following the StaticWorx RESTORE Floor restoration guidelines and implementing an ongoing multi-step maintenance program.