Static-Dissipative Carpet Tile
For this large project we worked closely with the architect and end user project manager on custom layout. ShadowFX static-dissipative carpet tile was installed glue-free with GroundBridge underlayment and TacTiles™ glue-free adhesive squares.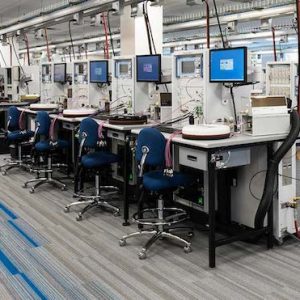 "On a recently completed project, consisting of 30,000 SF of microelectronics lab, our team worked with StaticWorx and President Dave Long to create the perfect ESD flooring solution for our client–blending required performance (both in terms of static control and highly sought after comfort on foot), aesthetics, and cost. The research and technical resources that StaticWorx provided helped to inform our team and client of the pros and cons of various ESD flooring solutions, and ultimately, guided in flooring specification and use. StaticWorx is a proven leader in static control flooring solutions–our interactions with their team members, and most importantly, their product performance, is a testament to that fact!"
Paul Meyer, AIA, NCARB, architect, Workplace Architecture+Design
The form below will help us better understand your needs and get you as quickly as possible to the right person. We look forward to helping you solve your static problem!
You can expect a response within 24 hours. For faster service, please give us a call: 617-923-2000
StaticWorx Flooring Products
StaticWorx high-performance static-control floors protect electronic components, explosives, and high-speed computers from damage caused by static electricity. ESD flooring is part of a system. Choices should always be based on objective, researched evidence. When you partner with us, we look at all possible items that may need to integrate with the floor, and, focusing on your goals and objectives, help you find the right floor for your application.