In a typical EMS environment, StaticWorx tile cannot be damaged by lack of maintenance. However, tile can become deeply soiled if contaminants become embedded due to long-term abrasion without a routine cleaning program. Heavy soiling as well as staining can be removed (figure 3).
The photos in figure 3 illustrate a custodian's ability to remove contamination from AmeriWorx solid vinyl tile even with heavy stains, scratches and variations in appearance.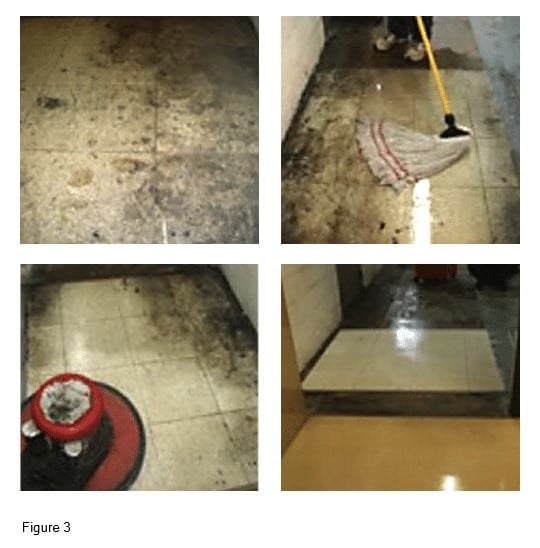 The photos show:
1) High-traffic corridor in an electronics manufacturing facility; improperly maintained for several years.
2) Applying a standard, moderately aggressive degreasing agent. Buff with maroon pad, dry mop, rinse; allow to dry.
3) Buffing with StaticWorx Formula 20.20 surfacing emulsion using a natural pad. Once dry, apply spray buff compound with white pad for an added sheen (optional).
4) Floor's appearance is much improved within a matter of hours.
You can use a more abrasive cleaning pad to remove resin/material from the surface of the tile then buff a glossy shine on the newly exposed tile surface.
The tile's original surface and gloss can be renewed at any time by following the StaticWorx Initial Post-Installation Floor Maintenance guidelines and implementing an ongoing multi-step maintenance program.