StaticWorx, Inc. Ranks on the Inc. 5000 List of Fastest-Growing U.S. Private Companies
"We are immensely proud and honored to be listed among the Inc. 5000. This achievement reflects the hard work and dedication of our entire team, as well as the continuous support from our valued customers and partners."
Dave Long, StaticWorx Founder and President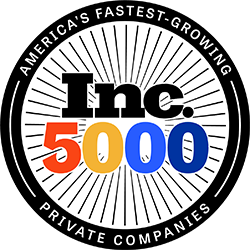 About StaticWorx GroundSafe™ ESD Flooring
A Bold Idea Leads To Pioneering Change in the ESD Industry
A technical specialist, with thirty-plus years solving static problems, Dave Long saw too many ineffective ESD flooring installations in critical environments. In most cases, poor performance resulted directly from incorrect flooring choices, with buyers and specifiers failing to understand the relationship between material construction, electrical resistance, and charge generation.
Dave envisioned an ESD flooring company that would provide multiple-material solutions, so clients would never be pigeon-holed into a one-material-one-size-fits-all model. The company would be built on transparency, with direct communication between the customer and brand supplier. By educating clients, sharing objective, researched information, this new company would help buyers and specifiers select an ESD floor that met the correct parameters for their application and environment. And the new company would test every installation to give the client peace of mind, knowing their new floor was properly chosen and effectively doing its job.
As the company grew, we continued to broaden our educational initiatives. StaticWorx publishes regularly in well-regarded industry journals. We offer popular CEU workshops to architects and designers in person and via Zoom. We routinely add new information to our expansive knowledge-based website. And we have created and maintain the largest collection of ESD videos in the industry, with over 1.5 million views across 75 videos (as of October 2023).
StaticWorx Builds A Growing Network in A&D, Management & Contracting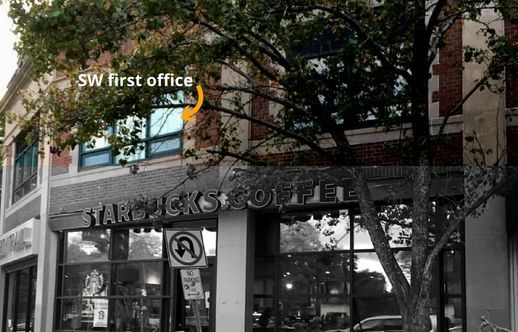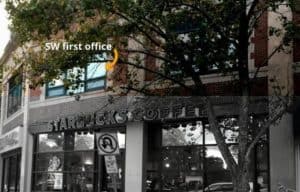 In October of 2007, StaticWorx moved from Dave's living room into a 300 square-foot rented office, above a Starbucks café. The tiny StaticWorx team worked diligently to educate property owners/managers and specifiers about ESD, ESD flooring, flooring selection, industry specifications and testing. These efforts cultivated a growing network of architects, designers, engineers, facility managers, owners, contractors and flooring installers.
Over the years, our experienced, highly-skilled technical team has helped thousands of specifiers and stakeholders choose, not just any floor, but the right ESD floor for their application. Today, StaticWorx supplies over 3 million sq/ft of static-control flooring a year to businesses across the globe. Our diverse clientele includes: electronics manufacturing; labs, cleanrooms, SCIFs, government offices; flight towers; military operations; universities, university labs; hospitals; critical call centers; 9-1-1 dispatch operations, data centers, server rooms, financial institutions, radio and TV stations and many other facilities.
StaticWorx takes a team-oriented approach to solving static problems. We begin each project with an in-depth discussion of your goals and objectives, along with a rigorous analysis of your application and environment. ESD standards vary across industries. We offer detailed technical information based on application-specific industry standards and test methods. We help you write your flooring specifications, grounded by objective criteria, repeatable data and independent lab reports. And we ensure that your specs meet all electrical and environmental parameters for your application.
Customized ESD Flooring Solutions
Our Promise: We Will Provide a Solution That Addresses Your Needs and We Will Prove That It Works
If you've researched ESD flooring providers, you know that the majority offer one, possibly two, flooring materials and steer you toward those. At StaticWorx we never try to force-fit a floor with an application. Unlike other providers, we supply every type of ESD flooring on the market. Our diverse array of ESD flooring materials includes: static-dissipative carpet, as well as ESD vinyl, rubber, interlocking vinyl and rubber, and epoxy/coatings, all available in static-dissipative and conductive versions. Our goal, always, is to help you mitigate the risks of ESD by helping you select the floor that's right for you. To ensure that our customized ESD flooring solutions fit perfectly and you're happy with your new floor, we offer ongoing technical support, from conception through maintenance, for every project.
Hope For A Cleaner, Brighter Future
At StaticWorx we are husbands and wives, parents, grandparents, aunts, uncles, neighbors and friends. Like you, we are committed to doing our part to end the devastation of climate change and to leave a better, stronger, cleaner Earth for younger generations who'll one day inherit the planet. Our ESD flooring products meet stringent environmental controls, have low or no VOCs, offer possible LEED points, and are certified by environmental organizations like FloorScore and GreenGuard.
Ask about our AIA-accredited ESD workshops for architects and designers.
The form below will help us better understand your needs and get you as quickly as possible to the right person. We look forward to helping you solve your static problem!
You can expect a response within 24 hours. For faster service, please give us a call: 617-923-2000
StaticWorx Flooring Products
StaticWorx high-performance static-control floors protect electronic components, explosives, and high-speed computers from damage caused by static electricity. ESD flooring is part of a system. Choices should always be based on objective, researched evidence. When you partner with us, we look at all possible items that may need to integrate with the floor, and, focusing on your goals and objectives, help you find the right floor for your application.