Designed for world class environments, StaticWorx SD is an attractive hammered rubber product, available in four colors that would please the most discerning architect or designer.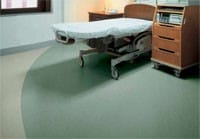 StaticWorx SD Rubber ESD Flooring is resistant to most oils and grease, and is also chemical and hot solder resistant. Able to withstand forklift/heavy wheeled traffic up to 850 PSI rolling loads, perfect for operating rooms. Contact surfaces of equipment wheels must be flat with round edges, and shore "A" material hardness must be less than or equal to 90.
Easy to maintain, never needs conductive wax. Slip resistance in compliance with ADA guidelines. Exclusive StainBlock feature for easy maintenance. This product is PVC Free and Phthalate Free.