Best ESD Flooring Options for Cleanrooms
Cleanrooms are known for the extraordinary measures used to control particles to ultra-clean ISO standards. Ironically, the static-control flooring in cleanrooms doesn't always meet industry standards and specifications.
Making sense of electrical standards and specifications takes time. Selecting the right ESD floor for cleanroom applications requires detailed attention to a range of issues from maintenance, durability, ergonomics, safety, and installation procedures, to technical issues—such as how the floor interacts with the footwear people use in the space.
Eclipse EC (electrically conductive) Rubber
Our award-winning flagship rubber flooring material, Staticworx Eclipse Electrically Conductive (EC) Rubber is a uniquely fault-tolerant, static-control flooring product. EclipseEC won the Seal of Approval from the ESD Journal as the only product suitable for Class-0 ESD (electrostatic discharge) applications. Associations, universities, labs, consultants, and clients as diverse as ASHRAE, MIT, Dangelmayer Associates, and the ESD Journal have found that conductive rubber flooring offers the lowest charge generation properties of any type of ESD flooring available today. It was also voted a top, money-saving product by Buildings Magazine.
StaticWorx Eclipse EC (conductive) rubber is ideal for cleanrooms and is the only ESD flooring product certified by the ESD Journal for Class-0 applications.
Charge generation: > 10 volts per STM 97.2
System resistance: 1.0 x 10E6
2 mm thick, available in 24″ x 24″ tile and 4′ x 40′ rolls
Eclipse GF (glue free) rubber
EclipseGF (Glue-Free) conductive rubber has a pre-applied, solvent-free, self-adhesive backing. Installing with dry, seamless tape makes for a quick, easy installation with no messy glue, along with simple maintenance – for the best performance of any resilient ESD flooring.
The preferred choice for almost any environment, EclipseGF rubber offers special benefits for clean rooms and labs, where downtime and contamination can't be tolerated.  It's also ideal for occupied areas and mission-critical facilities such as server rooms, hospitals, data centers, electronics handling applications, universities, and much more.
Glue-free is hassle-free – for maximum flexibility and convenience. Just roll it on and start walking. Can be applied directly over existing VCT and epoxy.
Thickness: 2 mm
Size: 4′ x 40′ rolls (for cleanroom installations)
GroundLock Interlocking & Lay-Flat Tiles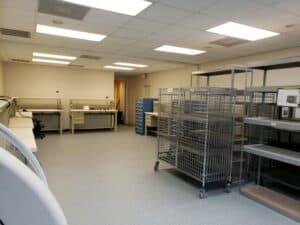 GroundLock Extreme ESD Interlocking and Lay-flat tiles are installable over any sub-floor, with no disruption and no permanent commitment. Unlike most tile, our GroundLock interlocking ESD vinyl tiles can be installed without adhesives and are dimensionally stable (without full adhesion). Our GroundLock tiles are also available as cut, flat-edge tiles* for seam-welding or one-to-one installation over raised access floor panels.
GroundLock Extreme meets all aspects of ANSI/ESD S20.20. Perfect for labs, clean rooms, R&D, and electronics manufacturing and handling spaces.
     * The square version can be installed loose lay or with releasable adhesive like carpet tile.
Electrical Resistance: > 2.5 x 10E4 – < 1.0 x 10E7 ohms
Charge generation:  < 100 volts
Thickness:  .24" (6mm)
Size:
Interlocking: 25" x 25" (635mm)
Lay Flat: 24" x 24" (610 mm)
Tough, yet visually appealing, StaticWorx SD (static dissipative) Rubber flooring and offers comfort, performance and durability.
StaticWorx SD Rubber ESD Flooring is resistant to most oils and grease, and is also chemical and hot solder resistant. Able to withstand forklift/heavy wheeled traffic up to 850 PSI rolling load. Easy to maintain, StaticWorx SD Rubber never needs conductive wax. Slip resistance in compliance with ADA guidelines. Exclusive StainBlock feature for easy maintenance. This product is PVC Free and Phthalate Free.
Static generation is less than 100 volts according to ESD STM 97.2 (tested with conductive shoes), 1.0 x 10E6 < System Resistance < 1.0 x 10E9
Thickness: 39.37′ x 39.37″ tile x 10.76 square feet
Size: 39.37′ x 39.37″ tile x 10.76 square feet
AmeriWorx Conductive ESD Vinyl
100% Made in the USA

Precision-milled, each tile is perfectly square and dimensionally stable, for quick installation with no unsightly gaps between the seams. Tough, durable AmeriWorx tiles are rated at 2500 PSI and capable of handling heavy loads –  including fork lifts, pallet jacks and heavy machinery.
When installed using our Statbond pressure-sensitive adhesive, AmeriWorx tile handles traffic immediately, with no downtime necessary for adhesive to cure. Inexpensive and easy to maintain, AmeriWorx tile has one of lowest total costs of ownership of any resilient ESD flooring option.
AmeriWorx ESD vinyl tile meets all parameters of ANSI/ESD S20.20 for static-control – and both ESD and material performance are guaranteed for the life of your floor.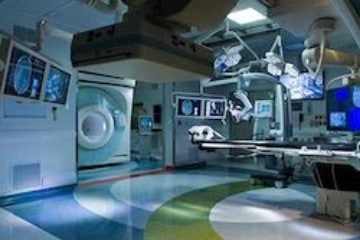 Resistive Characteristics:
     Conductive: <1.0 x 10E6
     Static dissipative: >1 x 10e6 – <1.0 x 10E9
Floor & Footwear Resistance in Combination with a Person: < 3.5 X 10E7
Floor & Footwear in Combination with a Person – Voltage: <25 volts with conductive footwear
Available in dissipative and conductive ranges.
     * Static-dissipative by custom order
Thickness: 3 mm or 1/8"
Dimensions: Precision milled 12' x 12" standard
24" x 24" and 36" x 36" available, custom orders
Our premium ESD coating, GroundWorx Ultra provides a beautiful, high-performing static-free surface – for excellent value at a favorable cost point. With a tensile strength exceeding 6,000 pounds, GroundWorx Ultra is extremely durable. It's easy to install and is quick and cost effective to maintain.
With a material cost < $2 per square foot (< $2.50 with an elevated moisture primer), GroundWorx Ultra gives you a strong, highly durable ESD floor, with optimal ESD performance, at a budget friendly price.
A Generation 3 ESD coating, GX Ultra's conductive top coat provides consistent ESD properties throughout the space.
Conductive: 2.5 x 10e4 – 1.0 x 10E6 ohms
Dissipative: 1.0 x 10E9 ohms
System resistance (w/ESD footwear): <3.5 x 10E7
Body voltage: <15 volts
StaticWorx/Dr. Schutz Floor Remake
StaticWorx/Dr. Schutz Floor Remake is an attractive, inexpensive way to refurbish or seal your lab or cleanroom floor. Remake prevents contamination by inhibiting the formation of bacteria. Resistant to chemicals and disinfectants, our Floor Remake PU sealant is easy to clean and maintain – and gives you a clean, hospital shine at a fraction of the cost of a new floor.
Available in transparent or colorized versions, Floor Remake gives floors an attractive, like-new finish, with long-term protection against wear and abrasion. Our Floor Remake sealant is slip- and fire-resistant and easy and inexpensive to clean and maintain. Available in regular and static-protective (ESD) options.
Recommended Flooring Products
The form below will help us better understand your needs and get you as quickly as possible to the right person. We look forward to helping you solve your static problem!
You can expect a response within 24 hours. For faster service, please give us a call: 617-923-2000
StaticWorx Flooring Products
StaticWorx high-performance static-control floors protect electronic components, explosives, and high-speed computers from damage caused by static electricity. ESD flooring is part of a system. Choices should always be based on objective, researched evidence. When you partner with us, we look at all possible items that may need to integrate with the floor, and, focusing on your goals and objectives, help you find the right floor for your application.