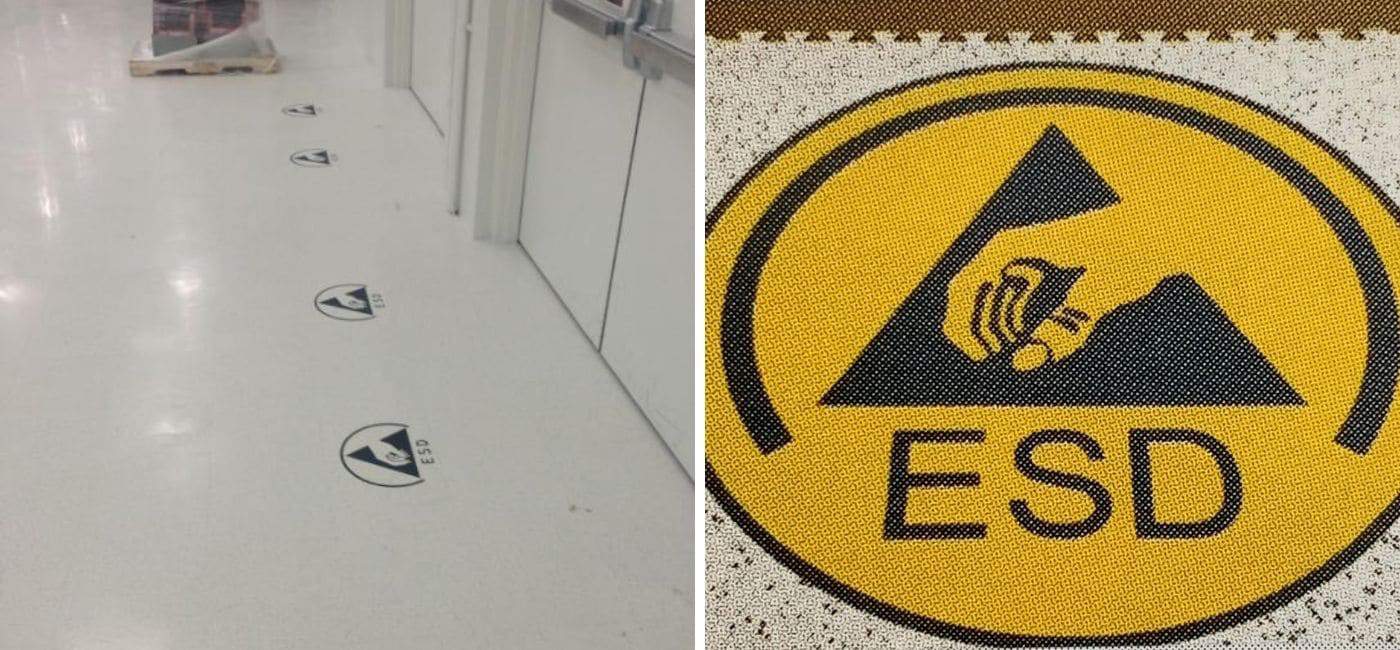 Why is it important to define the boundaries of your ESD protected areas?
The edges of your ESD Protected Areas (EPAs) should be well marked, particularly in high traffic areas such as entrances and exits where employees travel back and forth between protected and unprotected areas. Labeling these boundaries helps prevent the improper transportation of ESD-sensitive electronics out of the protected area. Clearly marked boundaries also caution employees, in addition to plant visitors, to take proper precautions, such as wearing ESD-approved footwear, before entering an EPA.
StaticWorx offers ESD messaging tiles for our modular vinyl, rubber and carpet tiles. Our message tiles seamlessly match the StaticWorx flooring installed at your site. Define your ESD protected areas and protect your bottom line. 
An excerpt from ESD prevention document ANSI/ESD S20.20:
Transportation of ESDS items outside an ESD Protected Area (hereafter referred to as "EPA") requires enclosure in static protective materials, although the type of material depends on the situation and destination. Inside an EPA, low charging and static dissipative materials may provide adequate protection. Outside an EPA, low charging and static discharge shielding materials are recommended. While these materials are not discussed in the document, it is important to recognize the differences in their application. For more clarification see ANSI/ESD S541.
All StaticWorx AmeriWorx ESD vinyl tile meets ESD Association (ESDA) standards. 
The form below will help us better understand your needs and get you as quickly as possible to the right person. We look forward to helping you solve your static problem!
You can expect a response within 24 hours. For faster service, please give us a call: 617-923-2000
StaticWorx Flooring Products
StaticWorx high-performance static-control floors protect electronic components, explosives, and high-speed computers from damage caused by static electricity. ESD flooring is part of a system. Choices should always be based on objective, researched evidence. When you partner with us, we look at all possible items that may need to integrate with the floor, and, focusing on your goals and objectives, help you find the right floor for your application.