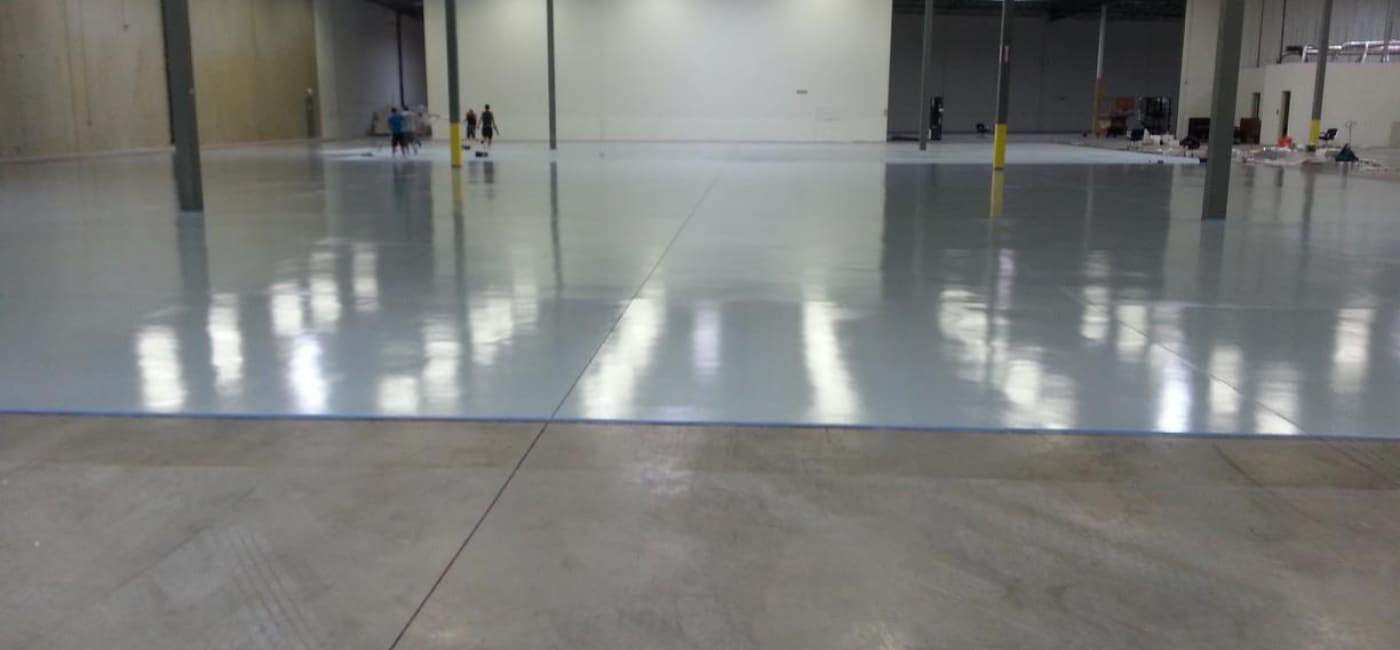 GroundWorx epoxy installation
StaticWorx Formula 20.20 Cleaning/Surfacing Emulsion
StaticWorx Formula 20.20 is a tough-acting, easy-to-use conductive floor cleaner, recommended for routine or quarterly cleaning of vinyl tile and all vinyl flooring surfaces. After initial maintenance, reapplication of Formula 20.20 does not require stripping the floor. Simply wash and buff.
Less expensive than ESD finishes or wax, Formula 20.20 provides a semi-gloss, hassle-free finish that seals without affecting the electrical performance of the floor. This means there is no need for constant monitoring or testing the conductivity or static-generating capacities of the ESD surface.
Used with StaticWorx Initial Surface Cleaning Pad (natural in color, with black strands), Formula 20.20 micro-cleans the surface of the tile resulting in a clean, high-performance, hospital-like shine.
The initial scrub pad is a thin gray pad, used for cleaning with EcoScrub stripper/degreaser or ScrubWorx cleaner. The pad used to apply Formula 20.20 is the Natural Hair Buffing pad.
Note: For its initial application, Formula 20.20 should be used only after stripping/degreasing the floor.
Standard Coverage:  approximately 1,000ft² per quart (w/double application)
For initial maintenance scrubbing or stripping the floor, use StaticWorx ESD EcoScrub floor stripper with a gray StaticWorx initial scrub pad.
Place a StaticWorx cleaning pad (natural in color, with black strands) onto a low-speed floor machine.
Using the mist setting on a trigger sprayer, mist StaticWorx 20.20 over the area to be cleaned.
With the low speed machine, distribute the cleaner evenly over the area to be surface cleaned (about a 10'x10' area at a time) – then begin buffing action.
Buff the area until the solution is dry using an even back and forth motion. Approximately 5 passes per row should properly clean the surface, but take extra passes to assure complete surface uniformity.
Continue the process until the surface of the entire area has been cleaned and is visually acceptable.
Repeating the process a second time will maximize cleaning and appearance, if desired.
Note: Never buff in excess of 375 RPM.
| Color | Water White |
| --- | --- |
| Fragrance | Mild |
| pH Concentrate | 11.0 |
ScrubWorx 20.20 ESD floor cleaner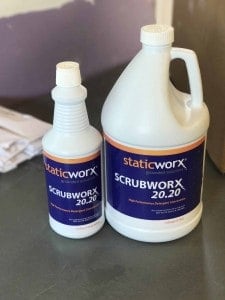 ScrubWorx concentrated cleaner contains a powerful blend of surfactants and detergents. Non-toxic, non-flammable, non-corrosive, and biodegradable, StaticWorx ScrubWorx 20.20 is also 100% active.
With its unique fragrance and odor removal system, ScrubWorx 20.20 lifts alkaline buildup from other floor cleaners to reveal your floor's natural shine, while eliminating odors at their source.
ScrubWorx 20.20 is safe and environmentally sound. No protective clothing or ventilation required.
Standard Coverage: 2,000ft² per oz., diluted
Active and highly concentrated, ScrubWorx must always be diluted with water.
Light soil: ¼ to ½ oz. per gallon of water for damp mopping and general light soil removal.
Normal soil: 1 oz. per gallon of water will remove and suspend soils and stubborn dirt.
Heavy soils: 6 oz to 16 oz. per gallon of water.
Will emulsify heavy soils and greases from most surfaces.
| Fragrance | Unique |
| --- | --- |
| Color | Blue |
| Foaming | Moderate to High |
| Flash Point | None |
| Detergency | Excellent |
| pH | 9.5-10.0 |
| USDA Rating | A-4 |
| Wetting | Excellent |
The form below will help us better understand your needs and get you as quickly as possible to the right person. We look forward to helping you solve your static problem!
You can expect a response within 24 hours. For faster service, please give us a call: 617-923-2000
StaticWorx Flooring Products
StaticWorx high-performance static-control floors protect electronic components, explosives, and high-speed computers from damage caused by static electricity. ESD flooring is part of a system. Choices should always be based on objective, researched evidence. When you partner with us, we look at all possible items that may need to integrate with the floor, and, focusing on your goals and objectives, help you find the right floor for your application.